My Blog
Posts for: April, 2019
By The Whole Tooth
April 20, 2019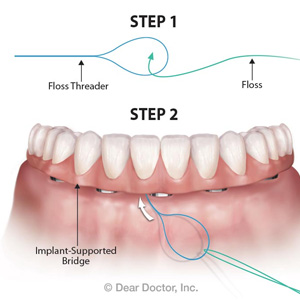 We've been using bridges to replace missing teeth for decades. Now, recently-developed implant-supported bridges are even more dependable, promising greater durability and less interference with remaining natural teeth.
But just like other restorations, you'll need to keep implant bridges clean to ensure their longevity. Although both the bridge and implants are impervious to disease, the supporting gums and bone aren't. If they become infected, they can break down and your restoration will fail.
Cleaning an implant-supported bridge includes flossing around each of the implants to remove dental plaque, a thin film of food particles and bacteria most responsible for dental disease. To perform this task, you'll have to pass the floss between the bridge and gums to access the sides of each implant.
To help make it easier, you can use a tool like a floss threader, a thin, shaft-like device with a loop on one end and a needle-like point on the other. You'll first thread about 18" of floss through the end and then pass the threader between the bridge and gums with the sharp end toward the tongue.
With the threader completely through, you'll then wrap the floss around your fingers as with regular flossing and move the floss up and down each side of the implants you can access. You'll then pull the floss out, reload the threader and move to the next section, repeating this process until you've flossed each side of each implant.
You can also use pre-cut floss with a stiffened end to thread between the bridge and gums or an interproximal brush with a thin bristled head that can reach underneath the bridge. And you might consider using an oral irrigator, a pump device that sprays a stream of pressurized water to remove and flush away plaque around implants.
To round out your hygiene efforts, be sure you visit your dentist at least twice a year for dental cleanings. Your dentist can also advise you and give you training on keeping your implants clear of disease-causing plaque. Cleaning around your implants will help ensure your restoration will last.
If you would like more information on caring for your dental restoration, please contact us or schedule an appointment for a consultation. You can also learn more about this topic by reading the Dear Doctor magazine article "Oral Hygiene for Fixed Bridgework."
By The Whole Tooth
April 10, 2019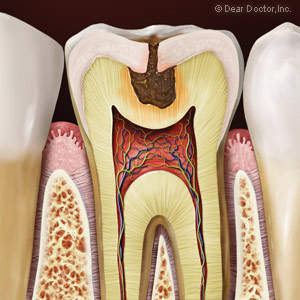 Humanity has been waging war against tooth decay for millennia — with this relentless opponent often getting the better of us.
Over the last century, however, significant treatment advances have turned the tide of battle in our favor. Perhaps the greatest of these advancements is our deeper grasp of the disease process — new understandings that have altered our treatment strategy. Rather than wait for cavities to occur and then repair the damage, we now focus on stopping the damage from occurring in the first place.
Prevention starts by reducing factors that contribute to tooth decay. We can signify these detrimental factors with the acronym BAD:
Bad Bacteria. Millions of bacteria inhabit our mouths at any one time, but only a few strains produce the acid that causes decay. We want to reduce their population by removing dental plaque (where they feed and grow) through daily brushing and flossing, and, at a minimum, semi-annual office cleanings.
Absence of Saliva. This important fluid neutralizes acid and strengthens tooth enamel. Some people, however, suffer from reduced saliva flow. We want to find the cause (for example, a side effect of certain prescription drugs) and then improve saliva flow.
Dietary Habits. A diet heavy in sugar and acid (particularly sodas and soft drinks) gives bacteria a ready food source and increases the mouth's acidic level. Chronic high acid levels in particular are often too great for normal saliva flow to overcome and neutralize. Reducing the amount and frequency of these food items creates a healthier oral environment.
Reducing BAD factors is only half of our prevention focus. We also want to promote SAFE factors that enhance tooth health and strength: Sealants, especially for children, that shield tooth surfaces from decay; Antimicrobial rinses that target and rid the mouth of acid-producing bacteria and give healthy bacteria room to develop; Fluoride, a proven enamel-strengthening chemical available in dental products, many drinking water systems and as a topical application in dental offices; and an Effective diet that's rich in nutrients and low in sugar and acid as already mentioned.
Keeping the focus on reducing BAD factors and promoting SAFE factors will greatly increase your chances of personally winning the war against tooth decay.
If you would like more information on the prevention and treatment of tooth decay, please contact us or schedule an appointment for a consultation. You can also learn more about this topic by reading the Dear Doctor magazine article "Tooth Decay: How to Assess Your Risk."