My Blog
Posts for tag: chipped tooth
By The Whole Tooth
March 19, 2017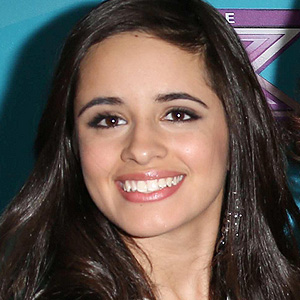 Everyone loves a concert where there's plenty of audience participation… until it starts to get out of hand. Recently, the platinum-selling band Fifth Harmony was playing to a packed house in Atlanta when things went awry for vocalist Camila Cabello. Fans were batting around a big plastic ball, and one unfortunate swing sent the ball hurtling toward the stage — and directly into Cabello's face. Pushing the microphone into her mouth, it left the "Worth It" singer with a chipped front tooth.
Ouch! Cabello finished the show nevertheless, and didn't seem too upset. "Atlanta… u wild… love u," she tweeted later that night. "Gotta get it fixed now tho lol." Fortunately, dentistry offers a number of ways to make that chipped tooth look as good as new.
A small chip at the edge of the tooth can sometimes be polished with dental instruments to remove the sharp edges. If it's a little bigger, a procedure called dental bonding may be recommended. Here, the missing part is filled in with a mixture of plastic resin and glass fillers, which are then cured (hardened) with a special light. The tooth-colored bonding material provides a tough, lifelike restoration that's hard to tell apart from your natural teeth. While bonding can be performed in just one office visit, the material can stain over time and may eventually need to be replaced.
Porcelain veneers are a more long-lasting solution. These wafer-thin coverings go over the entire front surface of the tooth, and can resolve a number of defects — including chips, discoloration, and even minor size or spacing irregularities. You can get a single veneer or have your whole smile redone, in shades ranging from a pearly luster to an ultra-bright white; that's why veneers are a favorite of Hollywood stars. Getting veneers is a procedure that takes several office visits, but the beautiful results can last for many years.
If a chip or crack extends into the inner part of a tooth, you'll probably need a crown (or cap) to restore the tooth's function and appearance. As long as the roots are healthy, the entire part of the tooth above the gum line can be replaced with a natural-looking restoration. You may also need a root canal to remove the damaged pulp material and prevent infection if the fracture went too far. While small chips or cracks aren't usually an emergency (unless accompanied by pain), damage to the tooth's pulp requires prompt attention.
If you have questions about smile restoration, please contact us and schedule an appointment. You can read more in the Dear Doctor magazine articles "Porcelain Veneers: Strength & Beauty As Never Before" and "Porcelain Crowns & Veneers."
By The Whole Tooth
August 20, 2016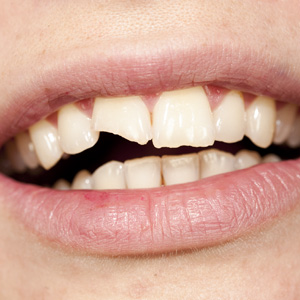 A tooth that's been chipped doesn't mean it's no longer healthy. The same, unfortunately, can't be said about the attractiveness of your smile, especially if it's one of your front teeth. A chipped tooth can be quite noticeable and make you self-conscious.
The good news is a chipped tooth can be restored cosmetically to look just as normal and attractive as your other teeth. Depending on the application there are two different materials we commonly use: porcelains, a type of oven-fired ceramic most often found in veneers or crowns; or composite resins, a mixture of glass and plastic substances we apply in liquid form that hardens in built-up layers on the tooth's surface to ultimately resemble normal tooth shape and color.
So, which of these two materials is the best option for your tooth? That depends on the extent and location of the tooth damage. Composite resins are most often used for mild to moderate chipping or breaks in the enamel (and somewhat for the underlying dentin) or decayed areas in the front teeth. Porcelain veneers or crowns are better for more extensive damage or discoloration.
Both materials have their advantages and disadvantages. Composite resins can be applied in one office visit, but they require a skillful technique and an artistic eye to achieve a life-like appearance; although their strength has improved over the years, they're also limited in their durability and longevity compared to porcelain. Porcelain, on the other hand, is quite durable and has an excellent tooth-like appearance; they do, however, require removal of more tooth material than a composite resin to accommodate the new veneer or crown, along with more than one visit and the services of a dental lab to create the restoration.
The best way to find out which option is best for you is to visit us for a thorough dental examination. From there we can review with you our findings, our recommendations and the costs associated with each option. But whichever material we use, porcelain or composite resins, you can look forward to a new smile you'll be proud to display.
If you would like more information on cosmetic treatments for teeth, please contact us or schedule an appointment for a consultation. You can also learn more about this topic by reading the Dear Doctor magazine article "Artistic Repair of Front Teeth with Composite Resin."
By The Whole Tooth
August 01, 2014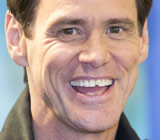 Fans of the classic bumbling-buddies comic film "Dumb and Dumber" will surely remember the chipped front tooth that Jim Carrey sported as simpleminded former limo driver Lloyd Christmas. Carrey reportedly came up with the idea for this look when considering ways to make his character appear more "deranged." He didn't need help from the make-up department, however… He simply had his dentist remove the dental bonding material on his left front tooth to reveal the chip he sustained in grade school!
Creating a Bond
A dental cosmetic bonding involves application of a composite filling material that our office can color and shape to match the original tooth. Bonding material can be used to replace the lost portion of tooth or to seamlessly reattach the lost portion if it has been preserved and is otherwise undamaged. Little to no removal of existing tooth surface is needed. This is the quickest and lowest-cost option to repair a chip.
Alternatives
When a relatively large portion of the tooth is missing, a crown is often the better choice. It fully encases the visible portion of the remaining tooth above the gum line and is shaped and sized to match the original. It can be made of tooth-colored porcelain fused to metal crowns or all-ceramic (optimal for highly visible areas). A small amount of the existing tooth surface will be removed to allow the crown to fit over it.
A veneer can be used to hide smaller areas of missing tooth. This is a thin, custom-made shell placed on the front of the tooth to give it a new "face." Some removal of existing tooth surface also may be necessary to fit a veneer.
A chipped tooth makes an impression, but generally not a flattering one. Nearly 20 years after "Dumb and Dumber" hit the theaters, the only thing Jim Carrey had to do recently to hint at a sequel for his nitwitted character was tweet a photo of that goofy grin!
If you would like more information about repairing a chipped tooth, please contact us or schedule an appointment for a consultation. You can also learn more about this topic by reading the Dear Doctor magazine article "Artistic Repair of Front Teeth With Composite Resin."