My Blog
Posts for: May, 2014
By The Whole Tooth
May 21, 2014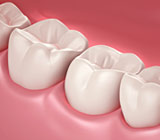 Getting a new crown for a front tooth is a standard procedure performed in thousands of dental offices around the country. But dental patients are sometimes surprised to find that the price of this routine treatment can vary by a substantial amount. What accounts for the difference? The answer tells us a lot about how crowns are made, and the value of aesthetics in dentistry.
Crowns may be made of several different materials. Gold, the most traditional restoration material, makes for a time-tested, functional and durable crown, lasting as long as 50 years. Gold is a precious (and expensive) metal, but considered over the lifetime of the restoration, it's an economical choice. Yet, even for back teeth, it's losing out in popularity to more aesthetically pleasing alternatives.
Porcelain-fused-to-metal (PFM) crowns and all-porcelain crowns replicate the look of natural teeth more accurately. The kind of porcelain used in restorations must have special strengtheners added, which enable it to stand up to wear and tear in the mouth. There are different porcelain materials used in dental restoration, each with a different look, quality and longevity. There are also new, high-tech ceramic materials. Each one has advantages and drawbacks, and each one's cost is different.
Besides the material, another large part of a crown's cost is the custom-fabrication of every piece. Since it must match the other teeth in form and function — and often in looks as well — every crown must be made to an individual's exact requirements. This includes the tooth's exact size and shape, its spacing, and (often) its particular color.
Making this happen is a multi-step process. First, a dentist carefully prepares a model of the affected tooth and its neighbors. Then, the fabrication work is normally performed by a highly skilled laboratory technician, at the dentist's direction. Finally, the dentist prepares the tooth for the restoration, performs final adjustments, and attaches the finished crown. When it's done, the restored tooth can be difficult to tell apart from any other.
The level of craftsmanship involved at the dental laboratory can vary — and along with it, the price. Dentists may even choose different technicians based on the quality level they're striving for. All of these factors affect the final cost of the crown, and its value to the patient.
It has been said that beauty is in the eye of the beholder, and this is certainly true in the case of dental restorations. The choice of a "best" crown is different for every person — more than one alternative may be available, and each comes with its own price. If you have more questions about your options for a crown restoration, don't hesitate to ask us!
If you would like more information about crowns, please contact us or schedule an appointment for a consultation. You can also learn more about this topic by reading the Dear Doctor magazine articles "Value of Quality Care," "Porcelain Crowns & Veneers," and "Gold or Porcelain Crowns."
By The Whole Tooth
May 06, 2014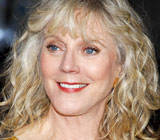 After her husband, producer Bruce Paltrow, succumbed to oral cancer in 2002, actress Blythe Danner made it her mission to help save other families from the heartache she and her children (Jake and Gwyneth Paltrow) suffered with his loss. Now active with the Oral Cancer Foundation, Blythe uses her fame to bring awareness to the disease, which she says she and her family knew very little about before Bruce received his diagnosis.
In an interview with People magazine, Blythe said she believes her husband's cancer could have been detected earlier if the family had been alert to the symptoms.
"For months I had noticed Bruce's voice was hoarse," she said. "I started asking him to see a doctor. But he kept saying, 'No, no, no, I'm fine.' "
When a lump became visible in his neck, he did go to the doctor and found he had a tumor in his throat. The cancer eventually spread to his lymph nodes. Compounding Blythe's sadness is the feeling that she might have been able to do something to prevent her husband's death.
"I feel tremendously guilty," she told the magazine, noting that she wishes she had simply insisted her husband get himself checked out. "Education and early detection are so important," she said of her campaign to raise awareness. "That's why I'm doing this."
Though Bruce Paltrow was a smoker, it's important to note that young, non-smokers comprise the fastest-growing segment of the population being diagnosed with the disease. That's because a sexually transmitted virus known as HPV16 is now a major cause of oral cancer.
Oral cancer screenings are yet another good reason to make regular semi-annual visits to the dentist. We have the training to notice oral abnormalities, and to monitor and/or biopsy any suspicious lesions. At your oral cancer screening, we will feel your neck for lumps and inspect your lips and all inside surfaces of the mouth, including the back of your throat.
Of course, if you or a loved one experience persistent hoarseness, white or red patches or other changes in your mouth or tongue that don't go away in a few weeks, please don't hesitate to come in and see us.
If you have any concerns about oral cancer, please contact us or schedule an appointment for a consultation. You can learn more about the disease in the Dear Doctor magazine article "Oral Cancer."