My Blog
Posts for: April, 2015
By The Whole Tooth
April 24, 2015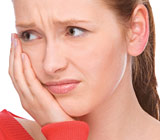 It can start with a simple twinge or be as severe as excruciating pain. From time to time, we have patients asking questions about tooth sensitivity — what causes it? What can be done about it? For these reasons, we have put together the following list of frequently asked questions (FAQs) so that you can develop a healthy understanding about this painful and often avoidable condition.
What is tooth sensitivity?
The first layer of protection of the teeth is enamel. Enamel is a dense crystalline structure, the hardest substance produced by animals. It is an inert substance that has no nerve supply and thus it protects the teeth from temperature and pressure changes. When it is compromised, worn thin, or exposed due to gum recession, it leaves the dentin exposed and vulnerable. Unlike enamel, dentin is living and has delicate nerve fibers within it.
What triggers tooth sensitivity?
Once dentin is exposed, it can become sensitive. It typically occurs when the dentin comes in contact with heat, cold, or the "double whammy" combination of both cold and sweets. Even the bristles of a soft toothbrush can irritate exposed dentin causing sensitivity and pain.
What can be done to minimize tooth sensitivity?
One of the simplest ways to minimize or prevent sensitivity is by teaching proper brushing techniques so that teeth are cleaned without causing either sensitivity or damage. Brushing too hard is a frequent culprit. Being overzealous can literally cause gum recession, leave dentin, and wear it away leaving it grooved. Another step to minimize sensitivity is to use a toothpaste containing fluoride. Fluoride increases the strength of tooth surfaces and thus makes teeth more resistant to attack by acids and sweets. If severe, we may need to apply a barrier to cover the sensitive areas. These barriers may range from concentrated fluoride varnishes to replacing lost tooth structure with filling materials.
Want to learn more?
To learn more about this topic, read the article "Sensitive Teeth." Or if you are suffering from this condition, please contact our office to schedule an appointment. During your appointment, we will conduct a thorough examination to ascertain what is causing your sensitivity as well as what we can do to treat and/or prevent future issues.
By The Whole Tooth
April 09, 2015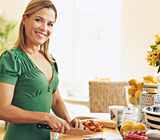 Junk food and between-meal sweets are a habit for many of us, even though we know it is bad for our bodies and our teeth. As adults, we are responsible for our own choices. As parents, we are also responsible for our children's choices, and for teaching them to choose wisely.
Celebrity Chef Cat Cora offers the following six suggestions for leading children to a healthy lifestyle. Cora is a star of Iron Chef America and author of Cat Cora's Classics with a Twist: Fresh Takes on Favorite Dishes, in which she reveals healthier versions of classic recipes. In her remakes she shows how to cook with a lot of flavor while reducing fat and sugar. Cora has four young sons, so her methods are not just theories — they have been practiced in real life.
1. Remember who's the boss.
"My kids have never had fast food," Cora said in a recent interview with Dear Doctor magazine. "The parents have a choice to do that or not," she said. "The kids are not going to the grocery store to shop; the kids are not driving themselves through fast food chains."
2. Make your rules clear and stick to them.
"Right now my 7-year-old tries to be picky, but it's really about us being consistent as parents," Cat said. For example, in her household pizza is served only at the weekly pizza and movie night. The kids get a healthier version of what they want, so they don't feel deprived. The evening includes air-popped popcorn without butter — and no soda, which is bad for teeth because of its sugar and other chemical ingredients.
3. Offer your children a variety of foods and tastes.
Cora made sure her children tried different foods and spices from infancy, so they are open to trying new things. It's easier to get all the nutrition you need if you eat a wide variety of foods.
4. Learn to make tasty substitutions for sugar.
When her children were babies, Cora stopped relying on bottles and sippy cups as soon as possible, reducing her children's likelihood of developing tooth decay due to sugary residues remaining in their mouths. Now that they are older, she uses tasty substitutes for sugar such as fruit purees and the natural sugar substitute Stevia.
5. Include the children in meal planning.
Kids are more likely to eat a meal they are involved in planning and cooking. For example, ask them which vegetable they would like to have (not whether they want to have a vegetable).
6. Model healthy behavior for your kids.
Parents are the best role models. This is true not only for food choices, but also for exercise and maintaining a healthy lifestyle.
Contact us today to schedule an appointment to discuss your questions about oral health. You can also learn more by reading the Dear Doctor magazine article "Cat Cora."